We make cold-formed pressed collars both with and without pressure ratings. With pressure-rated products, all calculation and rating procedures that we apply comply with the Pressure Equipment Directive (PED). For other dimensions, there is no uniform method for calculating the pressure rating, and no pressure ratings are thus determined.
The pressure-rated products come with dimensions ranging from DN10 to DN200 and are made according to EN 1092-1 type 37. These products are rated for pressures from PN10 to PN16, as specified in PED.
The products with dimensions from DN10 to DN600 and material thicknesses 2,0 mm, 3,0 mm and 4,0 mm are made based on de facto industry standards. These products are non-pressure-rated.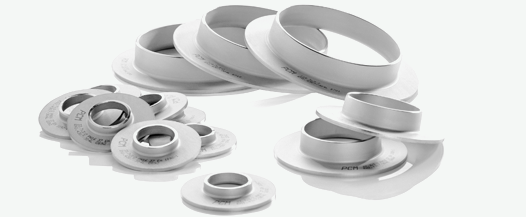 PRESSURE-RATED PRESSED COLLARS
EN 1092-1 type 37
DN10-DN200

PN10-PN16

Materials EN 1.4307, EN 1.4404, EN 1.4432, EN 1.4539 and EN 1.4462
PRESSED COLLARS
Non-pressure-rated
DN10-DN600

2,0 mm, 3,0 mm and 4,0 mm

Materials EN 1.4307, EN 1.4404 and EN 1.4432
All our products are provided finishing treatments by passivation and pickling.
In addition to resulting in an impressive-looking matt finish, these treatments remove impurities from product surface and ensure that the product's corrosion resistance properties are characteristic of the material.